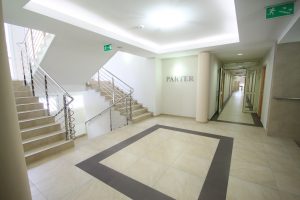 Address:
Dom Studencki Collegium Medicum UJ
Address: ul. Racławicka 9a
30-075 Kraków
Phone no. (+48) 12 390 88 00
Description of the facility
The dormitory offers single rooms in units comprising 2 rooms, a kitchenette and a bathroom with a toilet (each kitchenette and bathroom are shared by two residents). 24/7 reception desk service.
The building also offers its residents access to facilities such as a fully equipped gym and aerobics room (with TV and DVD), separate male and female changing rooms with lockers and a sanitary base; two conference halls with a screen, multimedia projector, flipchart boards, TV, DVD, storage space, kitchen and free access toilets; two study rooms; laundry room with 4 washer-dryer machines and ironing boards (irons can be obtained at the reception desk), drying room; and bicycle storage room. There is NO cafeteria/ canteen on the premises.
Each room is equipped with:
– an internet socket;
– a TV socket ;
– a telephone socket (with a telephone; internal and incoming calls only);
– furniture: desk with a top section, bed, wardrobe, chest of drawers, table, chairs;
– other: duvet, pillow, blanket, bedspread, bed linen set, set of towels, clothes hangers, bedside lamp.
Each unit is equipped with:
– a kitchenette with: an electric cooker, electric kettle, refrigerator, a set of 3 pots, a pan, soup plates, dinner plates, dessert plates, bowls, mugs and cutlery;
– en suite bathroom with toilet;
– a hallway with a wardrobe, clothes hanger and a mirror.
Cleaning service:
Resident units must be cleaned by the occupants. Bed linen and towels are changed every three weeks.
Location
The dormitory is located within walking distance from the Main Market Square (about a 10-minute walk) in a central part of the city, well communicated with the rest of the city: 6 tram stops to JU MC buildings, two direct tram routes; many tram routes to the city centre (i.e. tram routes no. 4, 8, 13, 14, 24), night bus (no. 601), convenient connection to the airport. The nearest tram stop is 400m away from the building.
Price and Payments
Price: 1200 PLN/ month for a single room (in a two-single-rooms set); 75 PLN/night for a single room;
Payment is to be made to the dormitory account, or in person at the dormitory administration office;
Payment of rent for each month is due by the 10th of each month. Information on that is included in the Rules and Regulations of the Dormitory, which are available in each of the rooms, and acknowledgement of which is made when signing the personal details form at the reception desk.  The monthly rent covers the period from the first to the last day of each month. 
Student's opinion

"I have enjoyed my stay in this student dormitory! The carefully-designed living space as well as the well-equipped facilities in the common area which includes study rooms and fitness room had provided me a very conducive environment, both for studying and relaxing. On top of that, I highly praised the friendly and efficient administrative staffs, receptionists and others who make everything so convenient for the residents. This has been the place which I call home for the past three consecutive years and I highly recommend it to the newcomers who seek for a place with great comfort and a community-feeling." -Hong Huat