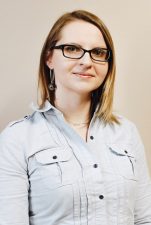 Ewelina Kamińska-Duclos
Psychologist and Psychotherapist.
Contact details:
phone no.: (+48) 731 998 505
email: ewelina.kaminska.duclos@terapia-cbt.pl
address: ul. Edmunda Wasilewskiego 20/10, Kraków
Member of the International Society of Schema Therapy and the Polish Psychiatric Association.
A graduate of the Institute of Applied Psychology at Jagiellonian University.
Postgraduate in Psychotherapy from the Medical Center for Postgraduate Education at Jagiellonian University.
Postgraduate in Sociotherapy and the Fundamentals of Psychotherapy from the Krakow Center of Psychodynamics.
Dr Kamińska-Duclos conducts psychotherapy sessions in English or Polish, classes for students, and workshops for parents.
Dr Kamińska-Duclos is a psychologist and psychotherapist from Krakow and a member of the International Society of Schema Therapy and the Polish Psychiatric Association.
She helps people who suffer from depression, anxiety, obsessive-compulsive disorders (OCD), emotional problems, difficulties with starting or maintaining relationships, and problems caused by difficult experiences and traumatic events.
Dr Kamińska-Duclos also supports couples who are experiencing problems with their relationship or would like to work on the dynamics of their relationship. She helps them to learn essential relationship skills such as better communication, in order to solve not only the current crisis but to prevent future break-downs.
Professional Qualifications
Dr Kamińska-Duclos graduated with a Master's degree in Psychology from the Institute of Applied Psychology at Jagiellonian University in Krakow, after which she completed postgraduate studies in Psychotherapy at the Medical Center for Postgraduate Education at the Jagiellonian University, and in Sociotherapy and Fundamentals of Psychotherapy at the Krakow Center of Psychodynamics.
Dr Kamińska-Duclos participates in the continual professional development and is currently completing her training in Schema Therapy at the New York / New Jersey Schema Therapy Institute. Upon completion, she will be a certified Schema Therapist and Supervisor to Schema Therapists under the paradigm of the International Society of Schema Therapy. She also continues her professional development through participation in many workshops and conferences both nationally and abroad.
Dr Kamińska-Duclos has extensive professional experience working with adults, initially during internships and volunteering positions, including at the University Hospital in Krakow. Since 2014 she has been conducting psychotherapy with adults in private practice, working mainly with cognitive-behavioral and schematic therapy approaches.
Q&A with Dr Kamińska-Duclos 
How do I work?
"I integrate several psychotherapeutic approaches in order to adopt the best method that works both for the individual and the diagnosed problem. The good of the patient always remains at the center of the treatment plan. That's why I'm constantly upgrading my knowledge and skills, and participate in regular supervision."
Why did I get interested in psychotherapy?
"I love my job. I put a lot of heart and effort into it because I see its worth. Every day I observe that psychotherapy really works and helps us deal with very difficult problems, even those that can make life difficult for weeks, months and even years.
In my work, I use two approaches, both with scientifically proven effectiveness and very specific guidelines for conducting therapy: Cognitive-Behavioral Therapy and Schema Therapy. Thanks to this combination of paradigms, I am absolutely sure that what I offer to my patients is transparent, structured, effective and a good investment in your self-development."
What drives me?
"I often hear that I am a good, empathic listener. This is probably because of my natural and insatiable curiosity about the world and the people in it. For as long as I can remember, I was curious about everything and everyone. I am fascinated by people, their complexity, the challenges they face, and their amazing capacity to find solutions to their problems. I have retained that curiosity to this very day. It comes out every time a person sits before me. I want to really get to know them and understand them in order to truly help them. It never fails to amaze me how unique we are as human beings, how resilient we are to adversity, and how much potential we have for kindness. I am fascinated by the fact that each of us has so many fantastic qualities, strength, and goodness within them.
I treat my patients as partners. I care that they make the most out of our relationship. In my opinion, psychotherapy differs from other relationships we have in life, in that it offers a completely new and unique way of being in a relationship.
I never rest on my laurels or assume that I know better than anyone else. On the contrary, I am always looking for new methods, solutions, perspectives, and innovative approaches for therapy, all with the most practical goal of achieving the best outcome for any particular patient.
Looking for opportunities for development, a few years ago I came across the concept of Schema Therapy. I was so fascinated that I decided to train in this approach, and now I am completing my certification by the New York / New Jersey Schema Therapy Institute. My teachers include Jeffrey Young, the founder of this innovative approach to therapy, and Wendy Behary, author of the best-selling book on narcissistic personality disorder "Disarming the Narcissist". It is a great honor for me and a great opportunity to learn from the best mentors in the field. This, of course, is great for my personal fulfillment but is also a direct benefit for my patients"